This article contains information on the Abraham Adesanya Polytechnic, Ijebu Igbo online and hard copy application forms for 2021/2022 admission as well as steps on how to Apply for Direct entry (DE) and Post-UTME screening. It also contains the Abraham Adesanya Polytechnic, Ijebu Igbo Application form download link as well as its online application where necessary.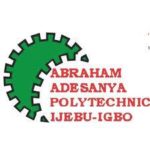 This article contains information on the Abraham Adesanya Polytechnic, Ijebu Igbo Application form and requirements for admission into Undergraduate Degree, Diploma Programmes and Postgraduate for the 2021/2022 academic year.
Applications are invited from suitably qualified SCHOOL LEAVERS, NON-SCHOOL LEAVERS and SPECIAL CASES.
ABRAHAM ADESANYA POLYTECHNIC ADMISSION GUIDELINES AND FORMS
Gaining admission into an Undergraduate Programme in AAPOLY is basically under 2 entry method which includes the UTME entry. Application to AAPOLY is basically online by following the following steps stated below.
AAPOLY POST UTME/DE Online Application Procedure
Click on this link https://v3.aapoly.edu.ng/admission/pros/dashboard.php?subsch=1 and select your programme.
Apply for the Admissions process by clicking Apply Now on an open Application (Please fill the form correctly and supply a VALID EMAIL ADDRESS because your login details will be sent to whatever email address you provide)
Check your email inbox (or spam) for your Applicant ID and Password
Return to the website and click Login to access the Application Form (Click here to login https://my.aapoly.edu.ng/login.php)
Continue by paying the necessary fees and then carefully filling the Application Form and click submit
Print the Application form and Examination Slip with the examination date on it
ABRAHAM ADESANYA POLYTECHNIC APPLICATION FEE
Eligible candidates are to pay the sum of N 2000 by following the payment method as stated in the application procedure.
This fee is non-refundable even if you decide not to study through AAPOLY, do not qualify for admission to AAPOLY or cannot be offered a space due to limited spaces available. AAPOLY does not accept cash at any of its offices.
The due date for the application fee is the closing date for the application period. Any application submitted without an application fee paid on time will not be processed. Please ensure that you keep a copy of your proof of payment.
Make sure that your application is complete
If your application for admission to study through AAPOLY is incomplete, you will have to re-apply during the next application period.
Abraham Adesanya Polytechnic, Ijebu Igbo Postgraduate Application Procedures
Further Readings:
Abraham Adesanya Polytechnic, Ijebu Igbo Term and Registration Dates 
Don't miss out on current updates, kindly & follow us on Follow @Eafinder OR
Leonel has been Teacher at Alliant International University since 2013. He began to write about admission details at Course Discovery.