This article contains information on the procedure for applying for the Accra Technical University (ATU) Hostel as a new and returning student.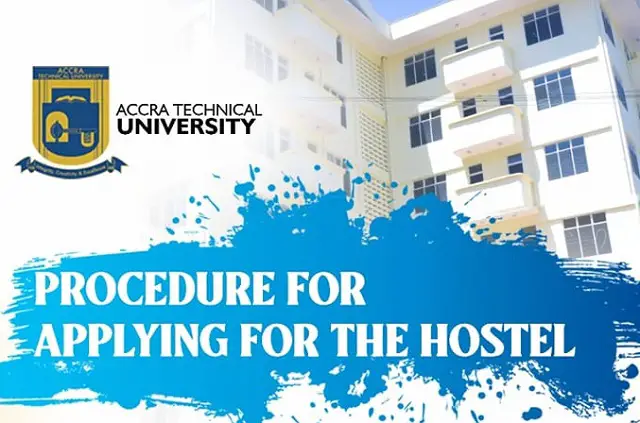 Some of us doesnt know the fun of staying in the hostel despite attending day secondary school. The university hostel is quite different from the high school boarding school because it gives you this level of freedom and lessen the over-zealous supervision on you. Then again, it gives you the opportunity to be together with like minds as students. This amongst others is a reason why you need to apply for the ATU hostel to enjoy the benefits that comes with.
You must be a bonafide student of Accra Technical University (ATU) whether returning or a freshman to be eligible for hostel application. To apply, you'll need have a laptop or phone with an internet connection. Kindly check below for detailed instruction on how to apply for the Accra Technical University (ATU):
PROCEDURE FOR APPLYING FOR THE ACCRA TECHNICAL UNIVERSITY (ATU) HOSTEL ACCOMODATION
Pay your full tuition fees.
Log into the ATU student Portal (Kindly check here for steps as first year students who are yet to create their login credentials)
 Select your preferred hostel. Available rooms will be based on your gender.
Select a room and make payment within 24 hours.
After payment is made, kindly download the tenancy agreement, sign and submit to the hostel poster to finalize registration.
Take note, the system will be closed on Fridays and opened on Sundays.
Don't miss out on current updates, kindly & follow us on Follow @Eafinder OR
Leonel has been Teacher at Alliant International University since 2013. He began to write about admission details at Course Discovery.