The application for the Flywire Charitable Foundation Scholarship for the academic year 2021 is now open for all students in South Africa.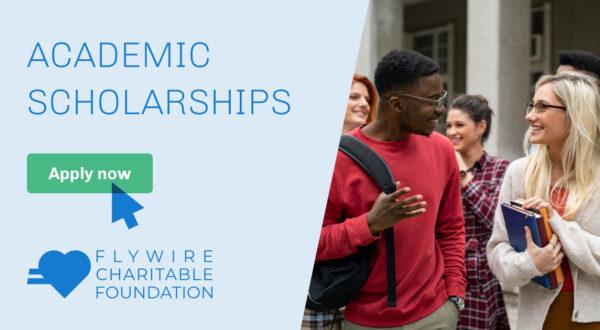 The Flywire Charitable Foundation hereby invites all public and private institutions to apply for undergraduate Scholarships for students that intend to, or are currently studying towards programmes that are aligned to the following listed below:
Social Justice
Global Health
Global Citizenship
For the 2021 academic year, seven total scholarships of $5,000 USD each will be awarded. Last year four winners were awarded scholarships after receiving 800 applications representing 85 countries and nearly 300 HEIs around the globe. The Flywire Charitable Foundation aims to improve equality, access and affordability for underrepresented individuals and communities.
Update: How to Apply for the  2021 NMCF Efeng Bacha Recruitment
FLYWIRE CHARITABLE FOUNDATION SCHOLARSHIP APPLICATION ELIGIBILITY
The scholarships are open to graduate and undergraduate students worldwide.
Matriculating and currently enrolled students are welcome to apply.
Open to all majors.
Each student can only apply to one of the three scholarships.
Applicants cannot be or related to existing or former Flywire employees, officers and companies that Flywire conducts business with. Flywire reserves the right to review the situations and the ultimate decisions.
HOW TO APPLY FOR FLYWIRE CHARITABLE FOUNDATION SCHOLARSHIP
All eligible applicants must complete the application form, indicating which scholarship they are applying for.
Submission of an essay or video responding to the below prompt is required within the application form.
Videos should be mp4 or mov format, and should be between 1-3 minutes in length.
Essays should be one-page typed (12-point standard style font, 1-inch margins) in PDF format. All applications must be submitted in English.
CLOSING DATE FOR APPLICATIONS
Applications MUST be submitted by Monday, June 21st, 2021 at 11:59 PM ET (3:59 PM GMT). Please note that any applications submitted after this point will not be accepted or reviewed.
Winners will be notified via the email provided by Tuesday, July 27th.
Scholarship funds will be distributed directly to your institution shortly thereafter.
Read Also:
How to Apply for the SAMRC RCDI-nested Postdoc Fellowship >>>
How to Apply for the CETA Bursary >>>
How to Apply for the Unisa Honours Bursary >>>
How to Apply for the GrandWest Bursary >>>
How to Apply for the UWC Financial Aid
How to Apply for the FoodBev SETA Research and Innovation Bursary >>>
How to Apply for the DAC Bursaries for Heritage-related Studies >>>
How to Apply for the Multichoice Bursary >>>
How to Apply for the University of Nairobi Research and Innovation Fellowship >>>
How to Apply for the NRF Postgraduate Scholarships >>>
How to Apply for the Vaal University NDT Level Certification Bursary >>>
How to Apply for the GCRA Bursary >>>
Don't miss out on current updates, kindly  & follow us on Follow @coursediscovery OR
Leonel has been Teacher at Alliant International University since 2013. He began to write about admission details at Course Discovery.