Application for the Makerere University (Mak) Centenary Celebrations Logo Design Competition – 2021 Entry is now open by the Management of Makerere University (Mak) for all Students at the Makerere University (Mak) in Uganda.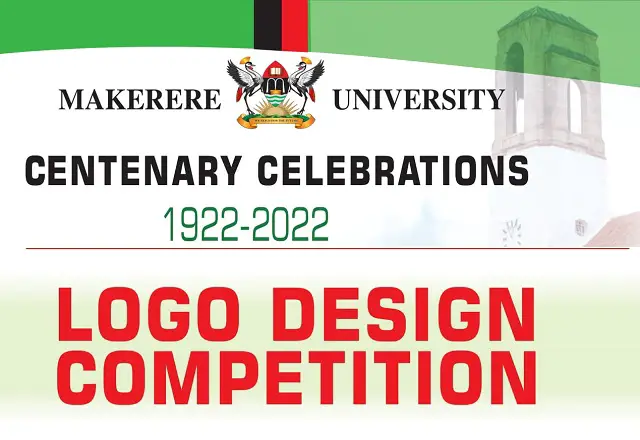 Makerere University will be celebrating the centenary year from 2021 to 2022. We are planning to design a commemorative logo which will be used in all media – including online, print, on merchandise and other visual collateral during the celebrations. All Students of Makerere University are invited to design a creative, innovative & professional Logo and Letterhead in line with the theme of centenary celebrations.
Winners will be selected by an expert panel appointed by the University and the winners will receive a certificate & cash prizes.
Winning design: UShs. 3,500,000/-
1st runners-up: UShs. 2,500,000/-
2nd runners-up: UShs. 1,500,000/-
Awards shall be given with the understanding that the intellectual property captured in the submitted designs shall belong to the University.
MAKERERE UNIVERSITY LOGO DESIGN CONTEST ELIGIBILITY & REQUIREMENTS
Eligibility:
The competition is open to all Makerere University Students who are fully registered.
Individuals or teams (with 2-3 students) may submit only one entry.
All submitted work must be the original work of the entrant(s) and must not include, be based on, or derived from any pre-existing or third-party designs, trademarks, or copyrighted images.
All entries will become the property of Makerere University.
By submitting an entry, each entrant agrees that any and all intellectual property rights in the logo and letter head design are deemed assigned to Makerere University.
Logo and letter head Requirements:
The Logo and letter head must promote the theme of centenary celebrations
Colours are limited to the Makerere University colour scheme
Integrity: The Logo and letter head should not contain any copyrighted material.
The Logo must have been created and edited by the contestant(s).
Must be easily reproducible and scalable for large and small formatting.
The Logo must be eye-catching and it must be legible.
Plagiarism will lead to disqualification.
MAKERERE UNIVERSITY LOGO DESIGN CONTEST APPLICATION INSTRUCTIONS
Please Submit your original source file as a high resolution. pdf with 300 dpi or higher to Email:

[email protected]

 or as sealed hard copy to Office of The Dean, Margaret Trowell School of Industrial and Fine Arts (MTSIFA), on: June 25, 2021 by 4.30 pm.
Don't miss out on current updates, kindly  & follow us on Follow @Eafinder OR