The application for the Old Mutual Education Trust (OMET) Bursary for the academic year 2021/2022 is now open for all South African students in South Africa.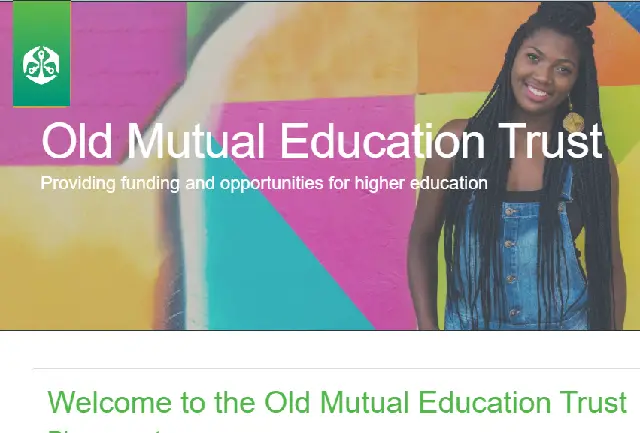 The Old Mutual Education Trust (OMET) was founded in April 2005 by Old Mutual as part of a BBBEE transaction with 10 unions with whom Old Mutual has a business relationship. The scholarship is open to all participating union members and their dependents. This allows for the pursuit of any tertiary qualification at one of South Africa's public higher education institutions. OMET also supports the personal, academic and professional success of their students by providing: computers, tutoring, access to counselling services and preparation for the world of work.
The Old Mutual Education Trust (OMET) Bursary programme assists by supporting financially deserving students with great academic potential to take their first steps in achieving their dreams and obtaining their first undergraduate degree. Old Mutual Education Trust (OMET) Bursary programme aims to fund academically deserving students who do not have the financial means to study full-time towards a first undergraduate degree or diploma at the Old Mutual Education Trust (OMET).
OLD MUTUAL EDUCATION TRUST (OMET) BURSARY APPLICATION ELIGIBILITY
The following persons may apply for the OMET scholarship:
A child of a member or employee (inclusive of an adopted child or a stepchild)
A grandchild or other child blood relation of a member or employee which is financially supported solely by the member or employee and is not older than 25 years old
A spouse of a member or employee or
Living together with the member or employee in a relationship akin to a marriage
The selection process is based on the academic ability of the applicant and in cases of a tie, the field of study, financial circumstances and gender are considered. OMET has a selection committee comprised of 4 senior people within the higher education sector – this committee audits and verifies the process. Final approval for the scholarships is granted by the OMET board at an official board meeting.
HOW TO APPLY FOR OLD MUTUAL EDUCATION TRUST (OMET) BURSARY
HOW TO APPLY:
CLOSING DATE FOR APPLICATIONS
The closing date for the application is YET TO BE ANNOUNCED as application portal opens by June 1st, 2021
Read Also:
How to Apply for the SAMRC RCDI-nested Postdoc Fellowship >>>
How to Apply for the CETA Bursary >>>
How to Apply for the Unisa Honours Bursary >>>
How to Apply for the GrandWest Bursary >>>
How to Apply for the UWC Financial Aid
How to Apply for the FoodBev SETA Research and Innovation Bursary >>>
How to Apply for the DAC Bursaries for Heritage-related Studies >>>
How to Apply for the Multichoice Bursary >>>
How to Apply for the University of Nairobi Research and Innovation Fellowship >>>
How to Apply for the NRF Postgraduate Scholarships >>>
How to Apply for the Vaal University NDT Level Certification Bursary >>>
How to Apply for the GCRA Bursary >>>
Don't miss out on current updates, kindly  & follow us on Follow @coursediscovery OR