We pleased to present to you the 2021 University of KwaZulu-Natal (UKZN) Inspiring Impact Challenge as well as how to apply. It involves the competition eligibility, requirements and the prizes involved.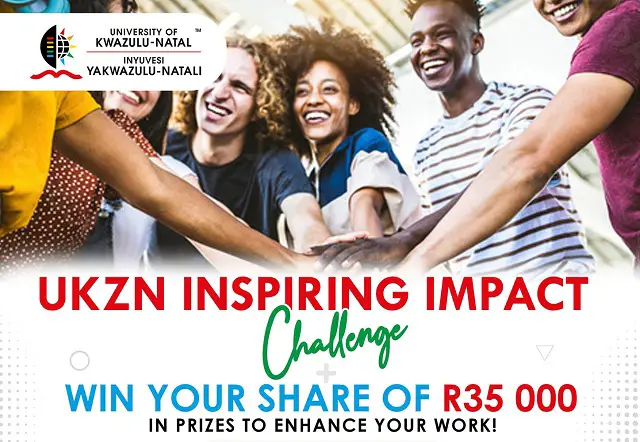 Every year the University of KwaZulu-Natal (UKZN) Inspiring Impact Challenge for interested & qualified South African citizens to apply for. This year is not an exception. Therefore the University of KwaZulu-Natal (UKZN) Inspiring Impact Challenge is listed below together with their eligibility, requirements and the prizes.
We want to hear about how ORDINARY PEOPLE are DOING EXTRA-ORDINARY things! UKZN is looking for students and alumni who are Making A Difference and Inspiring Greatness through the work they are doing especially in this difficult time.
UKZN INSPIRING IMPACT CHALLENGE PRIZES, REQUIREMENTS & ELIGIBILITY
PRIZES
Winner: R20 000
2nd position: R10 000
3rd position: R5 000
KEY REQUIREMENTS:
Must be operating for at least 6 months
Address at least 1 of the 17 UN SDGs
Must have impacted at least 100 people
NPO/NGO/ Social Enterprise Project
ENTRY REQUIREMENTS FOR THE UKZN INSPIRING IMPACT CHALLENGE
UKZN Inspiring Impact Challenge is an initiative of UKZN Corporate Relations (UKZN – CRD) and is powered by Kulisha (KG).
The challenge stimulates community engagement, cohesion, and creativity amongst students and alumni further promoting the development of social impact initiatives and/or social entrepreneurship.
Any student and/or alumnus ("the Participant") may enter the challenge by completing the supplied application form developed by UKZN-CRD and present their social impact initiative to a panel of judges .
Acceptance is dependent on various factors, the novelty and quality of the initiative, the strength of the management team, execution strategy of the initiative, as well as the clarity and coherence of the submission.
HOW TO APPLY FOR THE UKZN INSPIRING IMPACT CHALLENGE
Application Process
Entry into the challenge is via the Application Link is provided.
Awarding Process
By entering the Challenge, you agree that the judges' decisions will be final, and there will be no avenue for appeal.
Submission of an application or selection for participation in the Challenge is no guarantee of award of Prizing incentives through UKZN.
UKZN has the sole discretion of the award of Prizes based on operational and/or other requirements and such decision shall be final and binding.
Application Deadline
Applications should reach the UKZN Inspiring Impact Challenge on or before 1st October 2021 by midnight.
Leonel has been Teacher at Alliant International University since 2013. He began to write about admission details at Course Discovery.